ETERNAL (English Teaching Journal) is published twice a year in the month of February and August ISSN 2086-5473 (Print) and ISSN 2614-1639(Online). It presents articles on English language teaching and learnings, literature and research. The contents include analysis studies, application of theories, research reports, material developments and reviews.
ETERNAL (English Teaching Journal) invites the articles that have never been published anywhere else. Manuscripts should be type-written, double-spaced on quarto-sized paper 10-15 pages in length: preferably on a standard floppy diskette with two hard copies. The articles format should comply with the standard format of scientific writing. Articles will be reviewed by the reviewed by the Reviewers. The Editor reserves the right to edit articles for format consistency without altering the substance. An article contributor is entitled to 2 copies of current volume.
ETERNAL (English Teaching Journal) is published by English Department of FPBS the University of PGRI Semarang, Indonesia.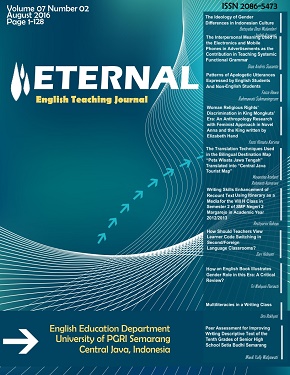 Announcements
No announcements have been published.
Vol 10, No 1 (2019): February
Table of Contents
Articles
| | | |
| --- | --- | --- |
| | Devi Budi Wijaya, Suwandi Suwandi, Sukma Nur Ardini | |
| | | |
| --- | --- | --- |
| | Liya Umaroh, Neni Kurniawati | |
| | | |
| --- | --- | --- |
| | Devy Angga Gunantar, Tatas Transinata | |
| | | |
| --- | --- | --- |
| | Ima Isnaini Taufiqur Rohmah | |