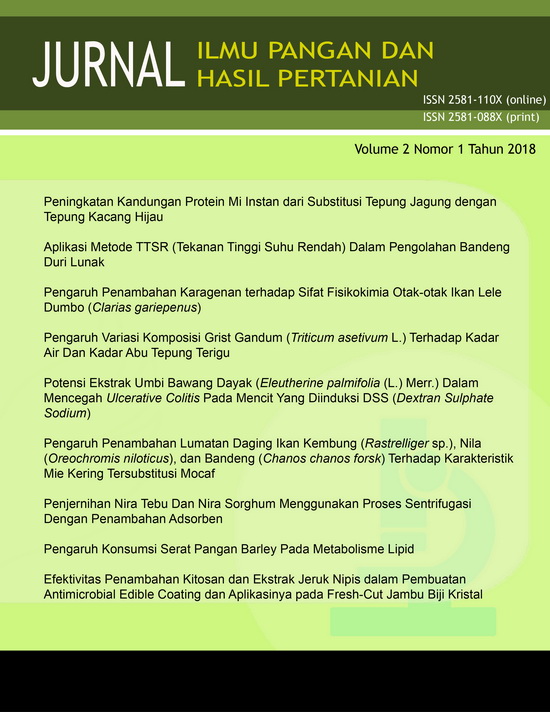 PENJERNIHAN NIRA TEBU DAN NIRA SORGUM MENGGUNAKAN PROSES SENTRIFUGASI DENGAN PENAMBAHAN ADSORBEN
Abstract
Produksi gula kristal maupun gula cair yang ada saat ini sangat rumit, membutuhkan energi yang besar dan juga biaya yang mahal. Penelitian ini bertujuan untuk menyederhanakan proses pembuatan bahan pemanis bentuk sirup dengan mengoptimalkan penguapan sebagai proses akhir sehingga akan memberikan efisiensi yang lebih baik. Nira didapatkan dengan cara ekstraksi mekanis dan diolah dengan adsorpsi dan sentrifugasi. Kombinasi bentonit dan karbon aktif digunakan sebagai adsorben dan diikuti dengan sentrifugasi untuk menghilangkan kotoran. Metode Ini bisa mengurangi kekeruhan jus gula dari 0,87 menjadi 0,188. Di sisi lain, sari gula yang diolah dengan adsorpsi memiliki brix yang lebih tinggi (19,13) dibandingkan dengan sentrifugasi tunggal (17,90).
References
Andrzejewski B, Eggleston G, Lingle S, and Powell, R. 2013. Development of a sweet sorghum juice clarification method in the manufacture of industrial feedstocks for value-added fermentation products. Industrial Crops and Products, 44, 77–87. http://doi.org/10.1016/j.indcrop.2012.10.028
Garza S and Ibarz A. 2010. Effect of temperature and concentration on the density of clarified pineapple juice. International Journal of Food Properties, 13(4), 913–920. http://doi.org/10.1080/10942910902919596
Domingues RCC, Faria Junior SB, Silva RB, Cardoso VL, and Reis MHM. 2012. Clarification of passion fruit juice with chitosan: Effects of coagulation process variables and comparison with centrifugation and enzymatic treatments. Process Biochemistry, 47(3), 467–471. http://doi.org/10.1016/j.procbio.2011.12.002
Ghosh P, Pradhan RC, and Mishra S. 2017. Clarification of jamun juice by centrifugation and microfiltration: Analysis of quality parameters, operating conditions, and resistance. Journal of Food Process Engineering, (May), e12603. http://doi.org/10.1111/jfpe.12603
Laksameethanasan P, Somla N, Janprem S, and Phochuen N. 2012. Clarification of sugarcane juice for syrup production. Procedia Engineering, 32, 141–147. http://doi.org/10.1016/j.proeng.2012.01.1248
Ramos AM and Ibarz A. 1998. Density of juice and fruit puree as a function of soluble solids content and temperature. Journal of Food Engineering, 35(1), 57–63. http://doi.org/10.1016/S0260-8774(98)00004-1
Ratnavathi CV, Patil JV, and Chavan UD. 2016. Sorghum Biochemistry: An Industrial Perspective. Sorghum Biochemistry: An Industrial Perspective. http://doi.org/10.1016/C2014-0-03569-1
Sagu ST, Karmakar S, Nso EJ, and De S. 2014. Primary Clarification of Banana Juice Extract by Centrifugation and Microfiltration. Separation Science and Technology (Philadelphia), 49(8), 1156–1169. http://doi.org/10.1080/01496395.2013.877932.
DOI:
http://dx.doi.org/10.26877/jiphp.v2i1.2319
Refbacks
There are currently no refbacks.
Copyright (c) 2018 Jurnal Ilmu Pangan dan Hasil Pertanian
This work is licensed under a
Creative Commons Attribution-NonCommercial 4.0 International License
.
Sekretariat Redaksi :
Program Studi Teknologi Pangan Fakutas Teknik dan Informatika Universitas PGRI Semarang
Gedung Pusat Kampus UPGRIS Jalan Sidodadi Timur no. 24 Dr. Cipto Semarang 50125
Jurnal Ilmu Pangan dan Hasil Pertanian indexed by :