Journal Title
JITEK (Jurnal Ilmiah Teknosains)
Frequency
Twice a Year ( May & November)
DOI
Prefix 10.26877 by  
ISSN

2476-9436

 (Online - Elektronik)
Editor-in-chief
Dr. Mei Sulistyoningsih, M.Si.
Publisher
Lembaga Penelitian dan Pengabdian kepada Masyarakat (LPPM) Universitas PGRI Semarang
Citation
SINTA 5 | Google Schoolar | Garuda 
JITek: Jurnal Ilmiah Teknosains 2476-9436 (media online) & 2460-9986 (media cetak) published scientific papers on the results of applied and natural science research covering the fields of science including engineering (civil, chemistry, architecture, electrical, mechanical, enviromental), food technology, agriculture, physics, biology, mathematics, chemistry and technical information. The manuscript must be original research, written in Bahasa Indonesia or English, and not be simultaneously submitted to another journal or conference. Manuscripts will be reviewed by an expert editor and managing editor.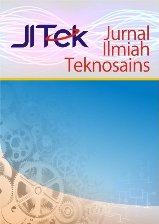 Announcements
No announcements have been published.
Vol 9, No 1/Mei (2023): JiTek
Table of Contents
Articles
| | | |
| --- | --- | --- |
| | Jabosar Ronggur Hamonangan Panjaitan | 1-8 |
| | | |
| --- | --- | --- |
| | Sasmita Sasmita, Siti Muntari | 9-12 |
| | | |
| --- | --- | --- |
| | Wida Awangsih, Titisari Juwitaningtyas | 13-17 |
| | | |
| --- | --- | --- |
| | Elvira Tasyha, Andi Prastomo, Bay Haqi | 18-23 |
| | | |
| --- | --- | --- |
| | Ipah Budi Minarti, Lussana Rosita Dewi, Shafira Rahma Nurhanifah | 24-36 |
| | | |
| --- | --- | --- |
| | Syifa Izati Fauzia, Dewi Nur Azizah | 37-46 |
| | | |
| --- | --- | --- |
| | Mochammad Wachidi Riyanto, Ipah Budi Minarti, Mei Sulistyoningsih | 47-52 |
| | | |
| --- | --- | --- |
| | Siti Aminah, Tri Susanti | 53-58 |