JITek: Jurnal Ilmiah Teknosains 2476-9436 (media online) & 2460-9986 (media cetak) published scientific papers on the results of applied and natural science research covering the fields of science including engineering (civil, chemistry, architecture, electrical, mechanical, enviromental), food technology, agriculture, physics, biology, mathematics, chemistry and technical information. The manuscript must be original research, written in Bahasa Indonesia or English, and not be simultaneously submitted to another journal or conference. Manuscripts will be reviewed by an expert editor and managing editor. The journal has been indexed in Google Scholar, Dimensions and Crossref. 
Jurnal Ilmiah Teknosains published two times a year, on May & November.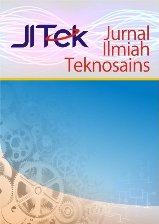 Announcements
No announcements have been published.
Vol 8, No 2/Nov (2022): JiTek: Jurnal Ilmiah Teknosains
Table of Contents
Articles
| | | |
| --- | --- | --- |
| | Sasmita Sasmita, Buhori Muslim | 1-7 |
| | | |
| --- | --- | --- |
| | Syukriah Syukriah, Mhd. Bayu Azhari, Nurlian Agustin Ningrum, Siti Amira | 8-13 |
| | | |
| --- | --- | --- |
| | Desi Puspita, Siti Aminah | 14-19 |
| | | |
| --- | --- | --- |
| | Nur Annisa, Wahidah Mahanani Rahayu | 20-28 |
| | | |
| --- | --- | --- |
| | Tri Susanti, Dedi Setiadi | 29-37 |
| | | |
| --- | --- | --- |
| | M. Anas Dzakiy, Endah Rita Sulistya Dewi, Shifa Qorib Nasrulloh | 38-42 |
| | | |
| --- | --- | --- |
| | Hartono Guntur Ristiyanto | 43-48 |
| | | |
| --- | --- | --- |
| | Hariyanto Hariyanto, Yovi Cahyo Utomo | 49-54 |