International Journal of Research in Education (IJRE) is a leading peer-reviewed journal for the publication of articles of interest to researchers in education. The journal has rapidly become a major focal point for the publication of educational research from throughout the world. It disseminates original, peer-reviewed studies covering all subfields, disciplines, and levels of analysis in the field of education research. Additionally, it promotes submissions from all fields of study and educational levels throughout life. IJRE seeks the highest quality submissions that represent a variety of viewpoints, subjects, settings, and methodologies, including interdisciplinary and multidisciplinary work.
The Journal welcomes research articles focusing on the following current issues in (but not limited):
1. Sciences Education,
2. Mathematics Education,
3. Technology Information in Education,
4. Early Childhood Education,
5. Economics Education,
6. Languages Education,
7. Linguistic and Culture,
8. Social Education,
9. Physical Education,
10. Civics Education,
11. Counselling, and
12. Other issues in the Teachers Preparation Program.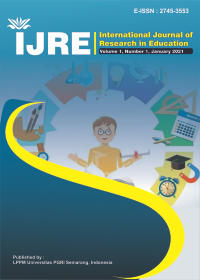 Announcements
SINTA 4 Accreditation

IJRE (International Journal of Research in Education) is accredited SINTA 4 by the Indonesian Ministry of Higher Education with Decree Number of 230/E/KPT/2022 from Volume 1 Number 1 , 2021 until Volume 5 Number 2, 2025

We would like to inform you that beginning with Vol. 3 No.2, we will charge an Article Processing Charges (APC) of IDR 500,000 (USD 34) to cover publication services such as review administration and management, Digital Object Identifiers (DOI) registration for each paper, Turnitin article similarity checking, final editing stage of the paper, and PDF production. The APC is due only once the manuscript has completed the whole peer-review process and the Editorial Panel has chosen to accept it.

Posted: 2023-04-11