LONTAR PHYSICS TODAY is a scientific journal published by the Physics Education Study Program, Universitas PGRI Semarang with the scope of all areas in the fields of physics and physics education.
Lontar Physics Today papers will be published three times a year on February, June, and Nopember by Physics Education study program, Universitas PGRI Semarang, Semarang, Central Java, Indonesia.
Please read this guide carefully. Authors who wish to submit their manuscripts to the editors of the Lontar Physics Today must comply with the writing guidelines. If the submitted manuscript does not comply with the guidelines or is written in a different format, it will be rejected by the editor before further review. The editor will only accept manuscripts that meet the specified format.
Article Processing Fee (APC)/ Article Publishing Fee: IDR. 300.000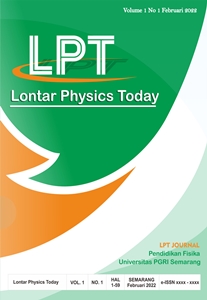 Announcements
No announcements have been published.