Nama Jurnal          : International Journal of Research in Education (IJRE)
ISSN                     : 2745-3553 (online)
DOI Prefix             : Prefix 10.26877
Editor in Chief        : Dr. Achmad Buchori. MPd
Frekuensi              : Twice a Year
Sitasi Analisis        : Google Schoolar
International Journal of Research in Education (IJRE) is a journal of theory and practices in educational settings. The Journal is scheduled for publication biannually, in January and July, with the first issue to appear in January 2021. It is published by LPPM Universitas PGRI Semarang, Indonesia.
The journal publishes peer-reviewed empirical research focused on critial issue of science, mathematics, and technology information education, early childhood education, economic education, language education, social education, and other issues relating to an educational setting.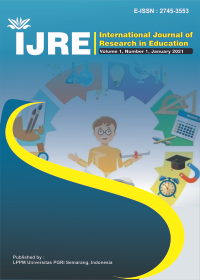 Announcements
No announcements have been published.
Vol 2, No 2 (2022): Issued in July 2022
Full Issue
| | |
| --- | --- |
| View or download the full issue | PDF |
Table of Contents
Edition 2
| | | |
| --- | --- | --- |
| | Nisa Novia Avien Christy, Ming Chang Wu | 93-108 |
| | | |
| --- | --- | --- |
| | Fitria Nur Annisa, Edi Purwanta | 109-122 |
| | | |
| --- | --- | --- |
| | Andhika Putra Daryanto, Arso Setyaji, Entika Fani Prastikawati | 123-131 |
| | | |
| --- | --- | --- |
| | Sarah Jane Ballaran Labarda | 132-141 |
| | | |
| --- | --- | --- |
| | Amy Rose T. Abendaño, Rovilyn T. Quimada, Lorie Mae P. Coloquit | 142-154 |
| | | |
| --- | --- | --- |
| | Nur Azmi Rohimajaya, Welliam Hamer | 155-165 |
| | | |
| --- | --- | --- |
| | Mobarak Mohammed Alqahtani | 166-186 |
| | | |
| --- | --- | --- |
| | Welliam Hamer, Rahman Hakim, Agung Laksono | 187-195 |