Jurnal Ilmu Pangan dan Hasil Pertanian is a scientific journal that published in PGRI Semarang University. The Scope of reasearch articles are some topics that related with :
Food Microbiology
Food Biochemistry
Food Chemical,
Food Engineering,
Food waste industry
Jurnal Ilmu Pangan dan Hasil Pertanian already has two registered number of ISSN, there are 2581-088X (print) and 2581-110X (Online). From the start of its publications, this journal has been using Online Journal System (OJS) to manage the articles that will be published. The author are required to register and follow the instruction to manage the documentation of articles.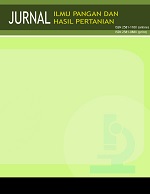 Announcements
No announcements have been published.
Vol 2, No 1 (2018)
Table of Contents
Articles
| | | |
| --- | --- | --- |
| | Meda Canti, Sri Anggrahini, Priyanto Triwitono | 1-12 |
| | | |
| --- | --- | --- |
| | apri dwi anggo, Putut Har Riyadi, Laras '- Rianingsih, Ima '- Wijayanti | 13-24 |
| | | |
| --- | --- | --- |
| | DWIYANTO SAPUTRO, Tri Winarni Agustini, Laras Rianingsih | 25-33 |
| | | |
| --- | --- | --- |
| | Rosalina Ariesta Laeliocattleya, Jessica Wijaya | 34-39 |
| | | |
| --- | --- | --- |
| | Sudarma Dita Wijayanti, Noor Hasyati | 40-52 |
| | | |
| --- | --- | --- |
| | Intan Purwa Kencana, YS Darmanto, Sumardianto Sumardianto | 53-62 |
| | | |
| --- | --- | --- |
| | Dego Yusa Ali, Sudarminto S. Yuwono, Nur Istianah | 63-71 |
| | | |
| --- | --- | --- |
| | M Khoiron Ferdiansyah | 72-81 |
| | | |
| --- | --- | --- |
| | Jami'atul Maghfiroh, Anggun Desiana Sofa, anis aprillia, Arief Rakhman Affandi | 82-90 |